Internships with NWS Office of the Chief Learning Officer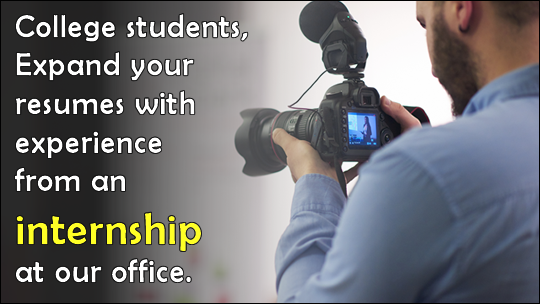 Office of the Chief Learning Officer (OCLO) internships provide a healthy venue for college level students to sample the workflow of a typical government office, while sharing insight on the latest skills, techniques, and technologies currently offered at universities.
Each intern will complete a brief orientation program, create an individual learning plan, and be paired one-on-one with a staff mentor. Interns learn new skills, receive feedback and mentoring, and gain valuable professional experience in instructional design/educational technology, web development, IT support, government science, project management, and/or communications.

Available Internships
We are actively recruiting the following intern positions:
We will also consider the following additional positions. Please contact us for more information.
Technical Writer
Practical Science
Web, Social Media, UX Designer
Project Manager
IT Assistant
Responsibilities
Internship responsibilities will vary, but may include:
Instructional Design – complete any (or multiple) phases from analysis to implementation
Educational Technology – work with our LMS and/or educational technology tools such as digital cameras and Articulate Studio
Web Design & Development – complete any (or multiple) phases using Drupal and/or Adobe products
IT Support – assist with installations, setups, repairs, and more
Project Management – create, define, and communicate new projects
Communications & Media – Assist with writing and editing, including blog posts, newsletters, and social media
Workload
Interns will work with their mentors to identify and agree to the scope of their unique project at the beginning of the internship.
University/ College Paperwork
Interns are responsible for identifying the requirements for and registering for credit hours with their university. Additionally, interns will need to inform their mentors of any required documentation and/or paperwork up front.
Requirements
Some positions may have additional qualifications and/or requirements than those listed below. Please review the specific internship position announcement before applying. Contact us with any questions.
US Citizen (proof required upon selection)
Able to pass a fingerprint/background check (upon selection)
Able to work from our office in Kansas City, Missouri (remote internships are not available)
Enrolled in or recently completed an undergraduate or graduate program
Enrolled in a 3-hour internship or 3-hour self-study course (if credit is desired)
Available to work at least 15-20 hours per week
How to Apply
Some internships applications are accepted on a rolling basis throughout the year. Other positions that are linked to specific projects may have specific start dates. Most internships offered in one semester are more often than not offered during subsequent semesters. To apply for a position, all applicant should mail or email the items listed below.
Please note that many internships listed above have additional requirements, so be sure to include those documents as well.
Compelling cover letter - explaining why you're interested in a particular internship, indicating your availability and preferred start and end dates, and mentioning where you saw the internship advertised.
Resume – no more than two pages
List of all relevant coursework completed
Writing sample – from coursework or other experience - The writing sample should be less than five pages.
References - please include 2 references to your work such as professor or TA
The National Weather Service does not discriminate against any intern or applicant for an internship on the basis of race, color, national or ethnic origin, religion, sex, age, handicap, pregnancy, sexual orientation, or veteran status.

Contact Information
For all questions or for more information, please contact:
Hattie Wiley
IT, Distance Learning Developer
816-994-3020