Overview
Instructions
Objectives
Lessons
Community Hydrologic Prediction System (CHPS) WFO User Training
This course provides detailed instruction on how to use the Community Hydrologic Prediction System (CHPS) to produce hydrologic forecast input.
Note: This course is best viewed in Internet Explorer.
Instructions
This course is self-paced interactive computer-based training. It is part of a series of CHPS modules located at http://training.weather.gov/nwstc/CHPS/.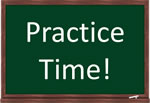 When you see this image, take a few minutes to practice the task or review the references discussed on the page.
You must complete the course assessment in the NWS Learning Center in order to receive credit for this course.
Click the next button to continue to course objectives or
click here to login to the NWS Learning Center to register for the course.
LMS Course Title: Community Hydrologic Prediction System (CHPS) WFO User Training
Objectives
By the end of this course, users will be able to:
Open a Virtual Network Computing (VNC) or NX client connection.
Analyze hydrologic data.
Apply modifiers.
Test forecast sensitivity.
Submit suggested forecast amendments to the RFC.
List several resources and troubleshooting techniques.